The 2022 state legislative session came to a close last month. Despite being a short 60-day session, there were big wins for children, youth, and families experiencing homelessness. Because it was a supplemental budget year and extra one-time, pandemic relief funding was available from the federal government, many one-time budget requests were made, with a good portion going toward homelessness services and supports. There was also more revenue coming into the state than previously predicted. While a lot of this funding went toward operational and programmatic efforts, a historic $2 billion went toward the state's transportation budget.
Governor signs youth health care bill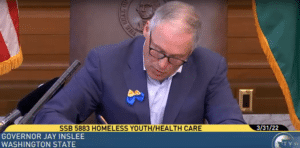 Our biggest win this session was the passage of Senate Bill 5883, which allows unaccompanied homeless youth under 18 to consent to their own primary health care. Building Changes worked extensively with many partners and our legislative champion, Senator Yasmin Trudeau, to create a bill that would support the health care needs of young people experiencing homelessness who are not in the physical custody of a parent or guardian. Thanks to Senator Trudeau and strong support from young people, youth providers, and the medical community, Senate Bill 5883 passed the legislature, was signed by Governor Inslee on March 31, and will go into effect on June 9. We believe this bill will go a long way in helping young people access the health care they want and need.
Other important legislative wins
Our partners also had many wins across the housing, education, and health systems, which we supported:
We testified in support of bills that would help students and families access school meals. One of these bills, which passed, will create an online portal in multiple languages to help students and families sign up for school meals and other support services.
We advocated for a historical investment in the Housing Trust Fund, which provides capital financing for affordable housing for people in low-income households, including those experiencing homelessness. The good news is the state invested $114 million in the fund this year, during a time when affordable housing is more important than ever.
We supported several other health bills and budget items this session, including those focused on behavioral health. One budget request item that we advocated for and are most excited about is $600,000 to fund on-site behavioral health staff at youth homeless shelters. We have heard repeatedly from youth shelter providers about the benefit of having on-site behavioral health specialists to help and support young people. We are glad to see the state investing in this work.
The passage of House Bill 1905 was another important win, thanks to the amazing work of our youth partners, especially the state Office of Homeless Youth. House Bill 1905 will help bolster our state's commitment to ensure that no young person exits a publicly funded system of care into homelessness.
Looking ahead to 2023
Looking ahead to the 2023 legislative session, we will be working hard during the interim to ensure our bills are being implemented effectively and to learn more from communities about any issues they would like to address during the next session. We will also be meeting with and cultivating new legislative champions to continue to support and elevate our work.
We are already planning on advocating for increased state investment in the Washington Youth & Families Fund (WYFF), which Building Changes administers, and Homeless Student Stability Program (HSSP). These programs are critically important to supporting children, youth, and families experiencing homelessness in Washington, and we look forward to elevating and expanding the work that our WYFF and HSSP grantee partners are doing across the state.