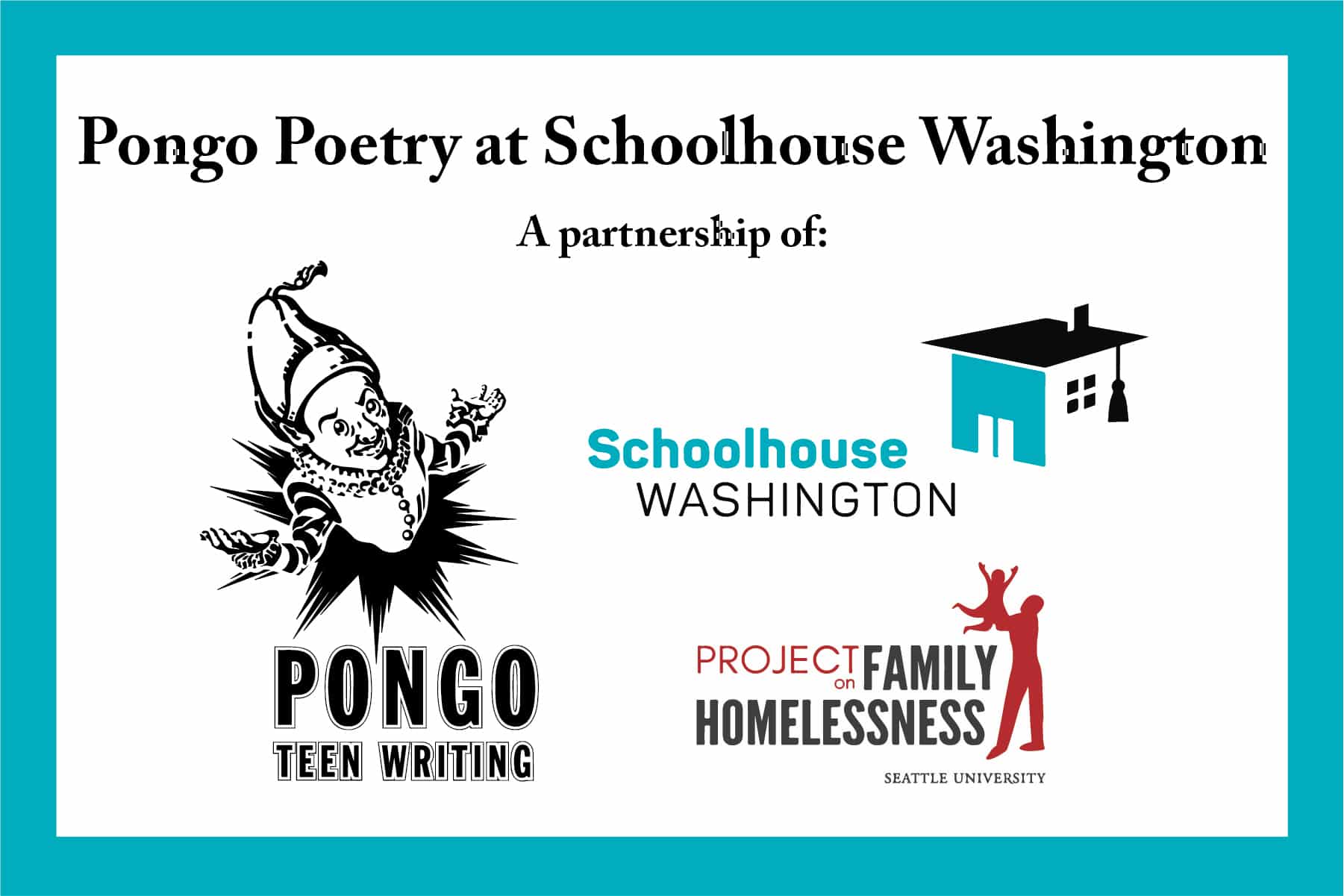 The Pongo Poetry at Schoolhouse Washington project seeks applications for its Fellowships to establish school-based poetry programs for middle-school students who have experienced homelessness or housing instability, as well as other personal traumas and challenges. Applications due January 12, 2018.
Through funding from the Bill & Melinda Gates Foundation, the Pongo Poetry at Schoolhouse Washington project will award up to four grants to McKinney-Vento or Students in Transition programs in Washington state schools and/or school districts, to implement a poetry program that starts in winter/spring 2018. The project is a collaboration among Pongo Poetry, Schoolhouse Washington and Seattle University's Project on Family Homelessness.
What the Fellowship Includes:
A free in-person training session on Pongo's acclaimed teaching method, of 3-5 hours, in February-April 2018 in each fellowship school district, for up to 20 people per district. Also included: up to 20 copies of the Pongo methodology book, "Writing with At-Risk Youth," one for each participant in the training session. (The value of the training for 20 people is $5,000. Travel costs will be covered by Pongo.)
A $1,000 stipend that could be used for poetry books, book publication, guest poets, journals, costs for readings, etc.
$25 gift cards for up to 10 middle-school students who participate in the initial writing opportunity.
An opportunity for student poetry to be published in a book at the end of the project, with their permission. Confidentiality will be maintained.
We Seek Applications From:
Homeless liaisons, school psychologists, teachers, counselors and others who work closely with middle-school students
A variety of school districts from across Washington state — large and small, urban and rural
Schools/districts who are not current grantees of Schoolhouse Washington, Building Changes, OSPI, or the Department of Commerce are encouraged to apply.
Purpose of the Project:
To give homeless liaisons and school staff an additional tool to serve middle-school students experiencing homelessness. Poetry can help students use their creativity and expression to work through challenging times, find their voices and articulate their aspirations.
To document the experiences of middle-school students in Washington state facing challenges to their education, especially housing instability, in order to share their stories and advocate on their behalf.
Timing:
Applications must be submitted by 11:59 PM on January 12, 2018. Pongo will make follow-up phone calls to applicants as needed. Fellowship recipients will be selected and notified by late January 2018.
Pongo staff will visit school districts to conduct the training in February-April 2018.
Schools/districts will be asked to plan a writing workshop with students, in discussion with Pongo, that will be coordinated with the training visit.
For questions about the Fellowship grants, contact: Richard Gold of Pongo Poetry. Alternate: Catherine Hinrichsen at Seattle University.
About The Program Partners:
The Pongo Poetry Project is a 22-year-old nonprofit that has developed its own unique and uniquely successful methodology for facilitating poetry by youth and adults who have led difficult lives. Its mission is to facilitate personal poetry as a healing response to devastating trauma.
Schoolhouse Washington is a partnership to improve housing stability and advance educational success for the nearly 40,000 students in our state who experience homelessness.
Seattle University's Project on Family Homelessness works with advocacy partners across the region to help tell the stories of families who are homeless, and connect those stories to meaningful action.